EAN WINS COVETED INNOVATION AWARD
Inmarsat and Deutsche Telekom's next-generation solution recognized for revolutionizing Wi-Fi onboard flights across Europe
7 June 2018: Deutsche Telekom, one of the world's leading integrated telecommunications companies, and Inmarsat, the world's leading provider of global mobile satellite communications, have been awarded the prestigious German Innovation Award for their highly successful joint venture, the European Aviation Network (EAN).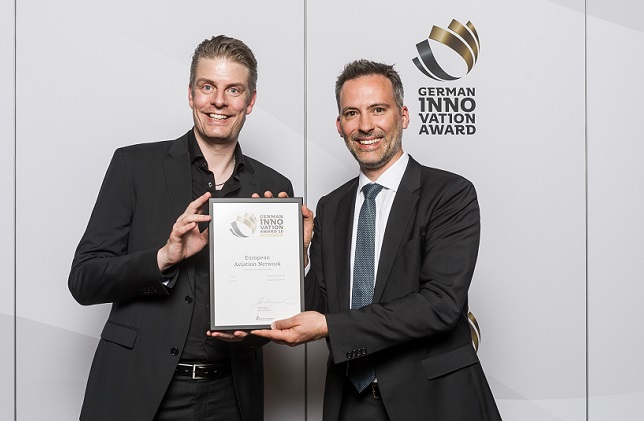 EAN, the world's first in-flight broadband solution that combines dedicated satellite coverage with a complementary LTE-based ground network, was announced as the winner in the Aviation and Maritime Technologies category, during a ceremony in Berlin last night.
The German Innovation Award was founded by the esteemed German Design Council and launched by German Parliament. Entries undergo a comprehensive evaluation that considers factors such as user benefits, economic feasibility, sustainability, technical quality and durability. Winners are therefore considered to be 'best-of-the-best' in their categories.
Judged by a panel of high profile experts from various German industries, EAN was commended for its exceptional performance and the potential of the network to positively influence the future of air travel. The win follows EAN also recently being named 'Best Inflight Connectivity Innovation' by the Airline Passenger Experience Association (APEX).
EAN is available to both commercial airlines and business aviation aircraft across all 28 EU States, in addition to Norway and Switzerland. With the solution, passengers will experience high quality broadband in the skies and the increasingly congested European aviation industry can meet the accelerating demand of new data hungry generations.
EAN programme leads David Fox of Deutsche Telekom and Stefan Magiera of Inmarsat received the award on behalf of the two companies at the German Technology Museum.
David Fox, Deutsche Telekom's Vice President Inflight Services and Connectivity, said: "It is truly an honour for our network to be designated an 'innovation made in Germany', and being so named by the German Design Council is proof of the extraordinary value of EAN."
Stefan Magiera, Inmarsat's Vice President of Programme Management, European Aviation Network, added: "We accept this on behalf of all of our colleagues from Inmarsat and Deutsche Telekom, as well as our many partners across Europe, without whom EAN would not have been possible."
About Inmarsat
Inmarsat is the leading provider of global mobile satellite communications services. Since 1979, Inmarsat has been providing reliable voice and high-speed data communications to governments, enterprises and other organisations, with a range of services that can be used on land, at sea or in the air. Inmarsat operates around the world, with a presence in the major ports and centres of commerce on every continent. Inmarsat is listed on the London Stock Exchange (ISAT.L). For more information, please visit www.inmarsat.com.
The Inmarsat press release newsfeed and corporate updates are on @InmarsatGlobal.
About Deutsche Telekom AG
Further information for the media at:

www.telekom.com/media
www.telekom.com/photos
www.twitter.com/telekom_group
www.instagram.com/deutschetelekom
For further information
Jonathan Sinnatt, Inmarsat Corporate Communications
Phone: +44 (0)20 7728 1935
E-Mail: jonathan.sinnatt@inmarsat.com


Robeel Haq, Inmarsat Aviation PR
Phone: +44 (0)20 7728 1352
E-Mail: robeel.haq@inmarsat.com


Deutsche Telekom AG, Corporate Communications
Phone: +49 (0)228 181 49494
E-Mail: media@telekom.de