EUROPEAN AVIATION NETWORK
WORLD-LEADING INNOVATION

Developed in partnership with leading mobile connectivity and aviation innovators, the European Aviation Network (EAN) is the world's first integrated satellite and ground network to provide true broadband experience across the skies of Europe. It combines a state-of-the-art S-band satellite, provided by Inmarsat, with an innovative ground-based LTE component built by Deutsche Telekom.

TECHNOLOGY LEADERSHIP AT ITS BEST

At Deutsche Telekom, we have proven our ability to build the best LTE-based networks on the ground. Providing high-speed access in the sky is a natural extension of our strategy. That's why we've now adapted our LTE technology for the skies above Europe – to provide passengers with a broadband experience similar to what they experience at home.

EAN – A PERFECT MATCH FOR THE WORLD'S BUSIEST AIRSPACE

The European airspace sees an average of 22,500 flights per day and more than 500 million passengers per year. To cope with this volume, we created a solution specifically designed to meet the requirements of the European market – with large numbers of short-haul flights demanding high capacity and robust connectivity.
FIRST TRUE BROADBAND EXPERIENCE IN THE SKIES ABOVE EUROPE
EAN'S INNOVATIVE TECHNOLOGY MIX OUTSHINES SATELLITE-ONLY SOLUTIONS
SUPERIOR BANDWIDTH & CAPACITY
LOWEST LATENCY
FLEXIBLE SCALING & GROWTH
HIGHEST AVAILABILITY
LOWEST WEIGHT & DRAG
COST-EFFICIENT INSTALLATION
EAN: UNIQUE BENEFITS FOR AIRLINES AND PASSENGERs

Unprecedented internet experience for passengers in Europe
For Europe's congested airspace, our integrated satellite and LTE-based ground network solution provides many unique benefits. EAN's ground component adds vast amounts of capacity for exclusive use in aviation. Its high speed and unprecedented low latency, paired with carrier-grade service quality creates a true airborne broadband experience for the passengers.
Fast and affordable network scalability for aircraft and passenger growth
EAN meets passenger demand for true in-flight broadband, with consistent quality of service in the air and on the ground. That means travellers can enjoy messaging, social media and high-bandwidth applications like web browsing, video streaming and VPN access while they fly. Finally, EAN is a future-proof choice for Europe's airlines: the network scales easily, allowing us to meet the ever-rising demand from growing numbers of aircraft, passengers and expectations..
DISTINCT ADVANTAGES OF EAN COMPARED TO CLASSICAL SATELLITE
EAN outperforms classical satellite solutions in many ways. Find out more in the table below! It compares EAN's performance with the best satellite-only solutions in terms of bandwidth, scalability, latency, installation, weight and drag.
EAN: UNIQUE BENEFITS FOR AIRLINES AND PASSENGERs
Bandwidth & Capacity

Highest possible bandwidth/capacity as focus is on aircraft only
> 75 Mbit/s peak rate to aircraft

Scaling

Complementary ground network easily scales with increasing traffic needs
Easy densification & sectorization of ground cell-sites

Latency

Short signal latency, typically <100 ms (20 – 70 ms)
All internet use cases possible (incl. gaming, VR, etc.)

System Availability

Integrated network provides seamless availability over land & water
Less complex equipment less prone to mechanical issues

Installation

Fast & low-impact installation during overnight breaks
Fleet installation turnaround within a few months

Weight & Drag

Small & light-weight antennas for both MSS and ACGC radio links with minimal impact on kerosene consumption

Aviation Exclusivity

Airlines on EAN do not share network capacity with any other industry or user-type and receive full capacity
Best Satellite-Only Solution (Europe regional)
Bandwidth & Capacity

Bandwidth/capacity shared with other users (non-aviation related like maritime and ground-based, e.g. rural customers)

Scaling

Satellite capacity can only be scaled by adding satellites
Only minor tweaks by re-arranging spot-beams possible

Latency

Ultra-long signal latency, typically >500 ms
Only limited internet use cases feasible

System Availability

Complex antenna technology with vulnerable moving parts lead to availability of usually not higher than 90 %

Installation

Installation only possible during c-checks
Fleet installation turnaround measured in years

Weight & Drag

Typically large, cumbersome, heavy/prone to wear antennas with significant knock-on for kerosene consumption

Aviation Exclusivity

Capacity is shared with many non-aviation customers and user groups like maritime, agriculture or rural residential internet
EAN: A WORLD-LEADING NETWORK IS READY FOR TAKE OFF!


Designed in Europe – The European Aviation Network
Engineered for high-density air space and developed by European companies, EAN consists of two main components. The first is the MSS satellite from Inmarsat, which covers Europe and the surrounding oceanic regions. The second is the complementary ground network of Deutsche Telekom, which provides the required high capacity in areas with extensive air traffic.
Mission completed: Thanks to a pioneering project, we have built it!
In less than 24 months we have rolled-out almost 300 specially adapted LTE sites to create a completely new, powerful, pan-European, LTE-based network covering 30 countries. This pioneering work removes the technical limitations of inflight connectivity and delivers true high-speed broadband internet in the sky for the first time – enabling an all-new user experience!
Media
EAN behind-the-scenes: exclusive reports from roll-out to present-day!
The complementary ground network of about 300 LTE antenna sites are now in place across Europe. The sites were sometimes challenging to install, often surrounded by spectacular scenery and always interesting to hear about. Here are a collection of unique stories, fascinating photographs and exciting information.
TECHNOLOGICAL INNOVATION AT ITS BEST!
Connectivity knows no borders! For Europe, integrated satellite and ground-based LTE technology provides the best solution on the market, especially regarding the benefits LTE technology brings by enabling broadband connection for passengers, airlines and crew. At Deutsche Telekom, we have proven our ability to build the best networks based on LTE technology. The adaptation of this technology for the skies above Europe is a pioneering work, which we have accomplished together with our partner Nokia.


How do we bring LTE technology to the sky?
Point transmission upwards
LTE tower transmissions can be controlled, similar to that of a spotlight. For the ground component service, we point the LTE antennas upwards – into the sky.
Optimize the antenna
Because aircraft fly at different altitudes and distances, we needed to develop a dedicated antenna with an optimized vertical gain pattern for the connection between the ground station and the aircraft.
Increase cell radii to 150 km
To provide coverage in coastal areas and keep site-count low in low air-traffic areas, cell radii up to 150 km are required. This is handled by special algorithms designed by Nokia Bell Labs, in addition to LTE inherent mechanisms.
Compensate the Doppler effect
Aircraft speeds can reach 1200 km/h, which causes a phenomenon called the Doppler effect. This describes the shift in frequency at a receiver when the transmitter or receiver is moving. A normal LTE system cannot cope with this, but our ground system uses special algorithms to overcome the problem.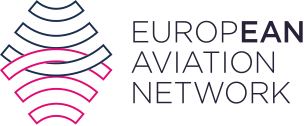 EAN – THE RESULT OF A PIONEERING WORK
The European Aviation Network is the result of a unique collaboration between Deutsche Telekom and Inmarsat, as well as a number of other European partners.

For over 30 years Inmarsat has helped transform the aviation industry with leading cabin and cockpit solutions. Their expertise makes them the ideal partner to distribute the European Aviation Network to airlines. Please contact them for further information about this innovative, integrated satellite and LTE-based ground network: europeanaviationnetwork.com
Together with our partners, we connect people wherever they are, on the ground and in the air.