Cathay to launch new harmonised Wi-Fi portal with Deutsche Telekom
In a fresh move for Deutsche Telekom in the airline industry, Hong Kong carrier Cathay Pacific Airways has selected the company to develop and support its future Wi-Fi portal across the airline's whole connected fleet.
With the operator's service set to start rolling out this quarter on Cathay's already Wi-Fi enabled Airbus A350 – followed by its Boeing 777 and Airbus A330 fleets – the tie-up will soon allow passengers to benefit from a smooth, consistent and harmonized experience over a single portal, no matter which connectivity providers are used in planes.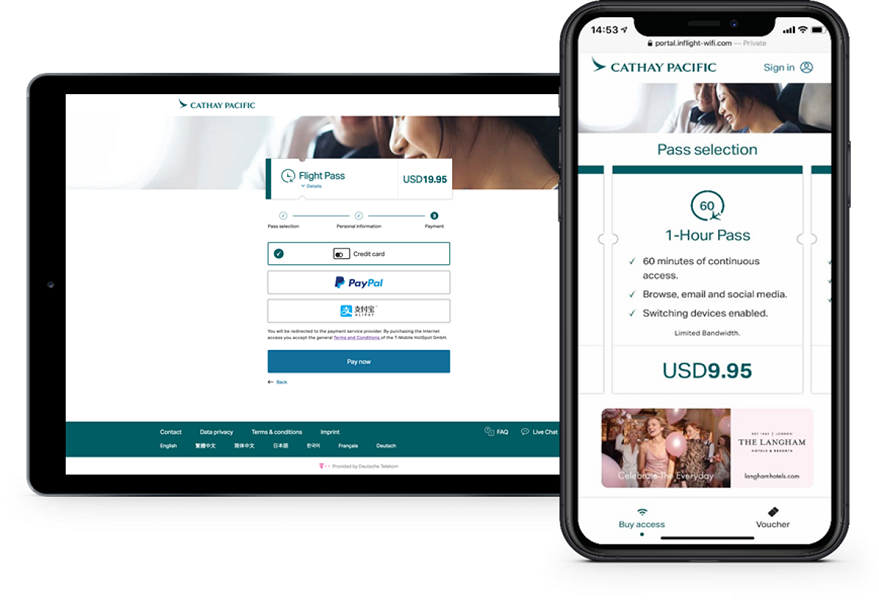 High-quality, reliable connectivity is seen as key by a rising number of airline passengers, who are increasingly demanding in-flight Wi-Fi options that allow them to use their favourite online services for both work and leisure in the way they are used to on the ground. This means that nowadays, such connectivity can be crucial to airlines for improving customer loyalty.
Although these are challenging times for the airline industry in light of the Covid-19 pandemic, robust broadband services can therefore be a key differentiator to have ready for when regular flying does begin again. With the pandemic underlining the importance of connectivity even more, people may also be seeking more future options to link up with family, friends and the workplace.
Years of experience
Deutsche Telekom is in an ideal position to provide this connectivity, having more than a decade of in-flight ISP experience – meaning its service is viewed as a highly reliable offering that is able to provide consistent connectivity across all connected aircraft.
The company has made major strides in recent years in both European and global skies, ensuring that aircraft around the world are equipped with a high-quality inflight Wi-Fi service for passengers to use.
It provides single-click log-on and "smart-pricing" models that enable airlines to boost Wi-Fi purchases and thus revenues by tailoring offerings to the length of flight. Deutsche Telekom also offers voucher systems and APIs that allow customers to purchase access before their flight and help airlines to run marketing campaigns – while its reporting, customer insight and survey systems can help airlines to boost uptake.
Such a set-up gives Deutsche Telekom significant learnings in the aviation industry, which the company believes helps to create an even stronger, more joined-up and comprehensive worldwide offering. In this vein, one key benefit of the service the company is running with Cathay is its ability to scale, with the airline's future requirements catered for as part of the agreement.
"Our dedicated in-flight connectivity solution is based on our feature-rich ISP core platform," said David Fox, Vice President In-flight & Connectivity Services at Deutsche Telekom Global Carrier. "It is designed to meet Cathay's current as well as its future connectivity needs."
From Cathay Pacific's perspective, Vivian Lo, General Manager Customer Experience and Design, highlights that a highly connected world means it is important to give passengers a seamless and consistent Wi-Fi service. The single portal also facilitates the ongoing launch of new, up-to-date features harmonized across platforms.
For Deutsche Telekom overall, this next move in its aviation journey is an extra step in creating a global high-quality Wi-Fi network in the skies that gives it more forward thrust to boost services for airlines and their customers.