Celebrating Europe's Broadband in the Sky
European Aviation Network (EAN), the fastest inflight broadband solution in Europe, is live and flying with initial airline customers. It's been an exciting journey of innovation to get to this point and this week provided an opportunity to celebrate this extraordinary achievement and the excellent feedback on social media from passengers that have tried the service firsthand.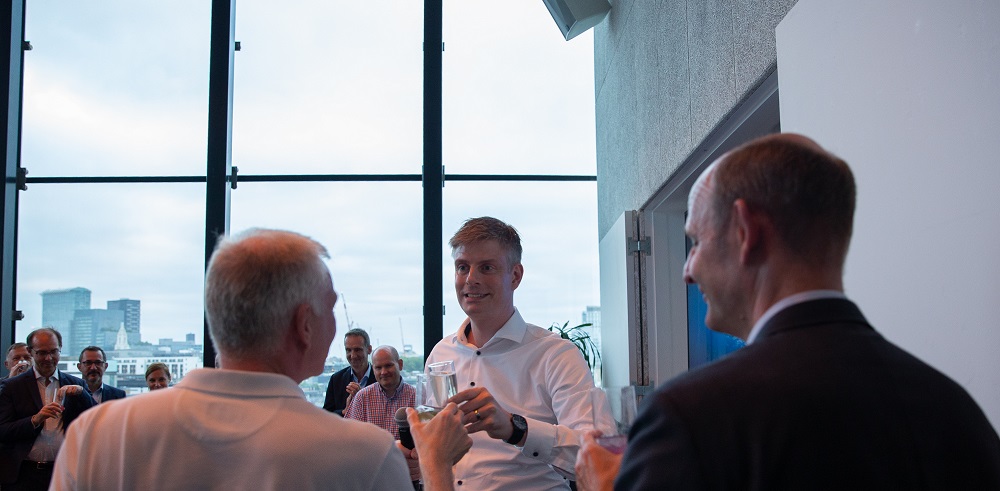 Inmarsat hosted an event in London, not only to mark the considerable accomplishment of soft launches with the first airlines, but also to thank the talented teams both internally and from various European partners that made it possible. The invitation list included a powerhouse ecosystem of partners that has been essential in creating EAN.
Representatives from Deutsche Telekom, Nokia, Thales, Cobham, Arianespace, Aeroantenna, Airbus, Technology, Kontron, TTP, EAD Aerospace, JV Aeroservices, PMV Engineering, STS Aeromod, LHT and Sasken were all in attendance.


"EAN tells a story of Europe coming together to create innovative services in the world's largest and fastest-growing short-haul aviation market," explained Inmarsat CEO Rupert Pearce, as he thanked each and every member of the first-class Inmarsat and partner ecosystem.
"It's an absolute triumph that we are celebrating today, a triumph of innovation, a triumph of ingenuity, but above all, something that delivers high skills into the European economy and new services to make European aviation more productive and to grow faster."


EAN has now been installed on aircraft flying on more than 100 routes across Europe, offering passengers incomparable data speeds of 75 megabytes per second, and latency that is ten times lower than any other network. It provides seamless uninterrupted coverage over land and sea, across all 28 EU countries, plus Norway and Switzerland.
Whether passengers want to stay connected to access streaming services such as Netflix, use social media, or simply send messages, EAN provides high quality inflight broadband to seamlessly enable all of these things.


EAN also offers the fastest ever installation time, requiring just nine hours, meaning that aircraft need less downtime. Combine this with the system's low weight, low drag and low maintenance components, and the result is lower fuel costs and lower overall operation costs. Airlines are able to achieve breakeven and profit status quicker than other traditional solutions.


"EAN is an fantastic proposition for airlines, it's incredibly economic but it's also by far the fastest and most capable network in European Aviation history. It's streets ahead of anybody else," endorsed Pearce.

As passenger demand shows no sign of slowing down, the network's scalability to cater for passenger needs for high quality connectivity in the future, allows it to stand head and shoulders above competitors.
As Pearce puts it, "For airlines looking to put state-of-the-art mobile broadband services onto their aircraft in Europe, it's got to be EAN."


As EAN continues to be adopted by airlines, there's sure to be much more to celebrate in the future but the mood at this event was captured perfectly by Deutsche Telecom's Vice President of Inflight Services and Connectivity, David Fox who gave a toast, saying, "We're celebrating having delivered the best solution for Europe and the European airspace, taking this from the initial idea, through to realisation, through to actual people on actual aircraft paying to use and experience Europe's only true broadband experience in the sky. What an achievement if there ever was one."