DT's business customers enjoy unlimited surfing while flying
MEDIA INFORMATION - Bonn, Germany, July 1, 2019
Soaring service, sinking prices. Effective immediately, Deutsche Telekom's business customers can enjoy unlimited Wi-Fi on European short-haul flights operated by the Lufthansa Group. With the Inflight Europa Flat, there's no limit to the amount or length of use. Thanks to high-performance access, business customers can check their emails, prepare for an upcoming meeting, or take part in video conferences , without worrying about costs.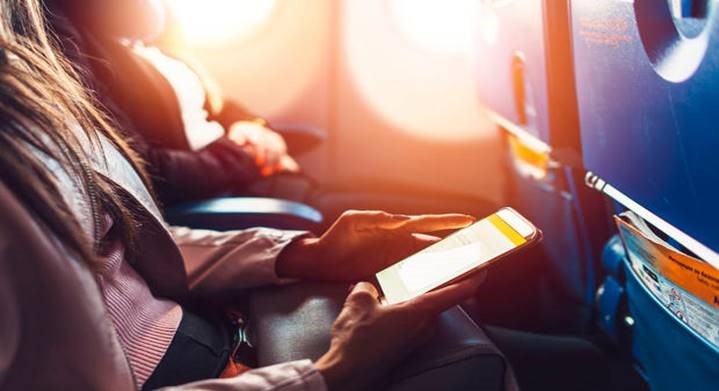 According to a survey by Bitkom, Germany's digital association, more than half of all Germans (52 percent) would like to surf the internet via Wi-Fi even above the clouds. "Deutsche Telekom supports airlines in helping to meet this customer demand," says Hagen Rickmann, Director for Business Customers at Deutsche Telekom. "Flight passengers benefit from reliable connectivity over their entire journey."
Connect app simplifies login to hotspots
Inflight Europa Flat can be booked free of charge in the Business Mobil L and XL Plus rate plans. With the Business Mobil M rate plan, the service costs ten euros per month with a minimum term of three months. Travelers need to book this option at least 24 hours before their flight. As soon as the plane reaches cruising altitude, Wi-Fi is immediately available.
Customers log on to the Inflight hotspots manually, through the respective airline's portal page, or using Deutsche Telekom's Connect app. When cruising altitude is reached, the app automatically indicates that a hotspot is available and asks whether the customer wants to connect.

Inflight already available on more than 500 aircraft
Inflight Europa Flat can be used on more than 200 aircraft flying European short-haul routes operated by Lufthansa and its subsidiaries Eurowings and Austrian Airlines. Deutsche Telekom also offers its Inflight service on the intercontinental routes of more than 300 aircraft. That includes those operated by Aer Lingus, Deutsche Lufthansa, EVA Air, Garuda Indonesia, Japan Airlines, Malindo Airlines, Scoot and Virgin Atlantic. On these flights the Wi-Fi service currently costs EUR 0.99 for every 10 minutes.