AWARD at APEX EXPO. Our Inflight App is So Cool!
AWARD at APEX EXPO
Our Inflight App is So Cool!
Deutsche Telekom has won the APEX Cool Award! Our Inflight App was chosen as the 'coolest' innovation by the attendees of the APEX (Airline Passenger Experience Association) Expo in Boston. With our mobile app, paying for inflight connectivity is easier than ever before.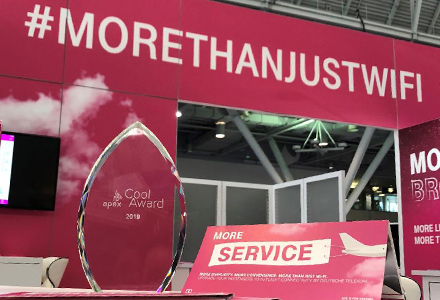 The payment process has often been a stumbling block for passengers interested in in-flight Wi-Fi. But with our app, they only need to swipe, tap and get connected! The white-labeled solution is tailor made to the needs of the airline. It helps increase usage and, with pre-stored credentials and accounts, boosts loyalty.
The app will soon be available on European Lufthansa, Eurowings and Austrian Airlines flights. We expect more and more airlines will soon pick up this solution, which can offer the pre-flight buying of in-flight vouchers and can also be easily integrated into existing airlines apps.
In any case, we're thrilled to take home the prize for this unexpected honor.
The Apex 'Cool' Award was created to recognize the innovative spirit showcased each year. Fellow exhibitors and visitors were asked to keep an eye out for coolest passenger experience innovations they saw out on the show floor and to vote for the best.
More information can be found here