Seamless Inflight Connectivity
The demand for connectivity has sharply increased in recent years. We are now used to being always and everywhere connected. Reaching for our phones is often the first thing we do in the morning and the last thing at night. Wifi access is a top priority for every holiday or business destination we choose. The only remaining period of time in our lives when connectivity is not yet readily available is when we travel by airplane to one of those destinations. And if it is available, the process to go and stay online before, during and after the flight can be somewhat complicated.
Deutsche Telekom has successfully been working with the commercial airline industry to expand and streamline inflight connectivity services. We have partnered with carriers such as Lufthansa and most recently Cathay Pacific to provide harmonized inflight connectivity solutions that are seamless and easy for passengers to use – right from the start of their journey until they arrive at their destination.
One of these services is a portal we have created for our airline partners that provides a streamlined passenger experience, taking the guesswork out of going online – independent of the particular connectivity provider on board.
Harmonizing the connectivity experience is beneficial to both travelers and airlines. It enables loyalty benefits associated with the airline's connectivity offering. It also offers a larger footprint to sponsors and advertising or roaming partners.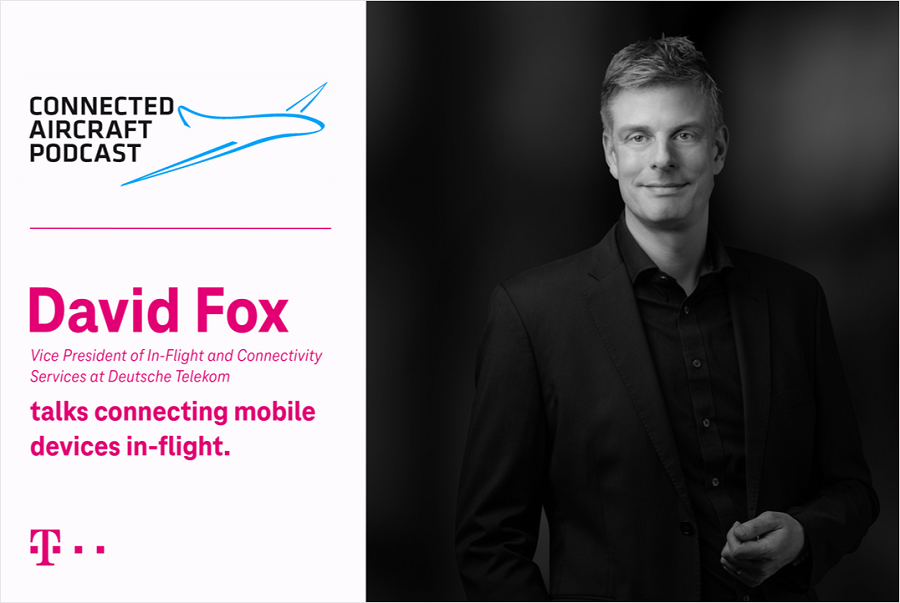 David Fox, Deutsche Telekom's Vice President, Inflight & Connectivity Services, has been in discussion with Woodrow Belllamy III, Editor-in-Chief of Avionics International, in the publication's latest Connected Aircraft podcast about Deutsche Telekom's achievements in providing harmonized inflight services that are user friendly.
The conversation also covers Deutsche Telekom's roaming expertise and partnerships, its ISP service offerings, as well as the European Aviation Network initiative Deutsche Telekom and Inmarsat are jointly pushing forward.
Last, David offers his insight on the challenges of Covid-19 for the telco and aviation industries and how the relationship between airlines and telco will be evolving in the future.
Sounds intriguing? Listen to the podcast discussion between David Fox and Woodrow Bellamy III here.