Unlocking the potential of inflight connectivity
David Fox – Deutsche Telekom Global Carrier's Vice President, Inflight & Connectivity Services – describes a triple-win for airlines, mobile network operators and their overlapping customer base
The demand for connectivity has sharply increased in recent years. We are now used to being always and everywhere connected. Reaching for our phones is often the first thing we do in the morning and the last thing we do at night. Wi-Fi access is a top priority for every holiday or business destination we choose.
The only gap in our lives when connectivity is not yet readily available is when we travel by airplane to one of those destinations. And if it is available, the process to go online and stay connected – before, during, and after the flight – can be somewhat complicated. An enhanced collaboration between airlines and mobile network operators (MNOs) offers each the opportunity to increase their value by taking the friction and fear out of inflight connectivity – much to the delight of their overlapping customer base – a win-win-win strategy.
Getting Online Aboard is Still Cumbersome
Ease of use and good value are the two main measures by which passengers evaluate inflight connectivity, and there is significant room for the improvement of both. The current multi-step process of getting online once aboard is extremely cumbersome to say the least. With an average flight time in Europe of only 70 minutes, passengers may feel like there is more time spent getting online than being online. These frictions associated with getting connected, combined with perceptions about poor performance and high costs, have kept uptake rates far below their present potential.
So, it seems the value for passengers is not where it needs to be. Neither is the return-on-investment for airlines who have often invested substantially in making the service available. Airlines are therefore in need of creating a unique harmonized passenger experience for all of their connected aircraft. And MNOs need to act and make this last slice of connectivity in the skies readily available to their subscribers as well.
A Brief History of Inflight Connectivity
There were several efforts made in the past decade to lessen these usage barriers. A few companies started to work with in-flight connectivity (IFC) providers to offer Smart Clients, which is smartphone software that automates the connection process. They also established roaming agreements so passengers could get seamlessly connected with the charges applied to their home service provider. The service has yielded a significantly improved user experience, but it continues to be a technically complex integration to implement and maintain.
In parallel, MNOs and Passpoint-certified Hotspot 2.0 technology entered the field, initially focusing inflight connectivity on long-haul flights (transcontinental and US domestic). However, Hotspot 2.0 was primarily used by mobile operators as a substitute technology to seamlessly off-load cellular data traffic to Wi-Fi, without considering how this could be applied in a paid-for environment such as inflight connectivity. And, while Passpoint-certified network equipment has now found its way into most commercial aircraft, there is still a large piece of the puzzle missing: the commercial framework to support seamless or "near-seamless" technology.
MNOs Stepping up to the Plate
Mobile network operators have finally taken action to support a harmonized inflight passenger experience on several fronts. A couple of years ago, Deutsche Telekom started to include inflight connectivity as part of their subscriber product portfolio, offering tariffs that include inflight connectivity either bundled-in or as a flat-rate option. Other MNOs have followed. The availability of the service as part of a bundled product has immediately and positively impacted internet usage aboard.
Another harmonized connectivity service involves airline portals that provide the same gate-to-gate passenger experience to go online no matter what connectivity provider the airline is working with. Deutsche Telekom has partnered with carriers such as Lufthansa and Cathay Pacific to provide such a platform which is seamless and easy for passengers to use – right from the start of their journey until they arrive at their destination. It provides single-click log-on and "smart-pricing" models that enable airlines to boost Wi-Fi purchases and thus revenues by tailoring offers to the length of the flight. Deutsche Telekom also offers voucher systems and APIs that allow passengers to purchase access before their flight and help airlines to run marketing campaigns.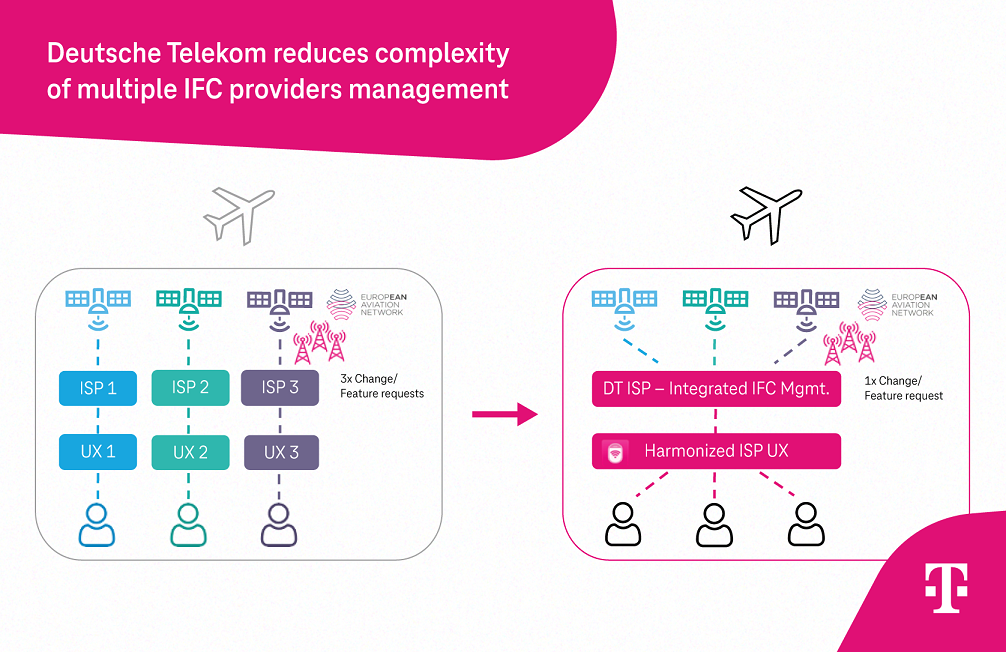 The Resulting Win-Win-Win Benefits
The passenger benefit of these recent collaborative efforts between the airlines and MNOs is clear: the resulting onboard connectivity service is now easier to use and of better value than before. Passengers enjoy an automated, near-seamless experience enabled by the Smart Client or Hotspot 2.0 technology, rather than the tedious getting-connected acrobatics mentioned above. They also get more value from their mobile contract, including inflight connectivity without any fear of bill-shock.